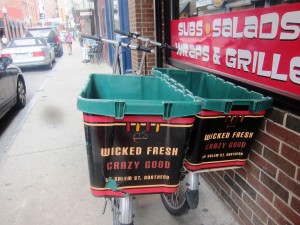 I never really think to head over to the North End for anything other than classic Italian pasta dinners, so when I was invited to try out a Pauli's, a small diner mostly specializing in sandwiches and subs, I did hesitate for a moment. I then thought about what fun it would be to walk around the North End with my sister and four year old niece and very quickly accepted. I had heard about Pauli's from reading Boston Magazine and a few other sites that raved about their Lobster Rolls.
We were blessed with gorgeous weather this particular afternoon so decided to walk around Faneuil Hall prior to heading over to the North End. Arriving at Pauli's on Salem Street around 1pm we walked into the small, somewhat busy café/diner and asked for the man himself. He immediately came out to greet us personally and I knew he was a genuine and warm as he comes across on his blog.
The walls are covered with menu items, which I have to say was completely overwhelming to me. I honestly could not even begin to think about what to order. Although a couple of things did jump out at us, we needed Pauli's recommendation.
I honestly had no choice but to order the Lobster "Lobsta" Roll. It was a forgone conclusion for me and how could I not try it given that it was on the Top 10 list of lobster rolls to try in the city. I was not disappointed. Overflowing with juicy, sweet, chunky lobster – no scrimping here at all. Just enough mayo to not overwhelm the roll with a freshness that was delightful. I enjoyed every single morsel of it.
After a little deliberation, my sister went with Pauli's recommendation of the Vito Sub, which was apparently created by the actor Joseph Gannascoli who played Vito on the Sopranos. When Toni was handed the sandwich we both burst out laughing, it was gigantic and could easily feed the three of us. Stuffed with tender fried chicken, ham, roasted peppers and spicy mayo it was just more than simply delicious. And… my sister surprised both of us by nearly eating the whole thing. I do admire her appetite.
Ava is a pizza obsessed four year old and that is the one thing Pauli does not have on the menu. This did not seem to faze him as he walked Toni and Ava to Ernesto's next door for two (free) slices of Margarita. Ava loved it and I thank Pauli for being so nice for doing this.
Pauli's offers breakfast, lunch and dinner in their small cozy diner, delivery and catering as well as a friendly smile and personal service.
You should also check out Pauli's blog for super recipes and sweet family stories.
Thank you to Pauli for his friendliness and of course for lunch.