I am writing this review with a little sadness as it is my farewell to a Harvard Square legend.  Opened in 1982 by Mary-Catherine Deibel and Deborah Hughes as Upstairs at the Pudding, they moved locations a number of years ago to their new home above Grendel's Den and renamed themselves UpStairs on the Square.  They will sadly be closing their doors at the end of this year.
Walking into UpStairs on the Square is like walking into a Fairytale of whimsy with just a hint of edginess.  Vibrant pinks, golds and greens hit you like a crazy Mad Hatter as you walk into their first floor Monday Club Bar, which is where I met my fabulous friend BosGuy for what was going to be a fun evening of splendor and delight.  Our evening started with a Dirty Martini for BosGuy and a frothy, dark, deliciously good Espresso Martini for me.  A super start to the evening I might add.
After enjoying our cocktails we were escorted upstairs to the Soirée Dining Room.  You actually feel like you are sitting in the middle of a big pink princess birthday cake.  I love this space as you cant help but smile and feel happy in it.  We were seated at a little table in the center of the restaurant located right next to a huge bright green table surrounded by ornate gold chairs.  Every table was with filled with wonderful characters of the dining elite, to Harvard undergrads to couples on date night and friends on the town – a true eclectic mix.
Our friendly waiter came over immediately to offer us water, while we perused the menu.  So many items jumped out at me, however, I settled for the Beet Trio while my friend picked the Grilled Oysters and a bottle of Laroche Chablis for us to share.
I love beets and these were quite possibly some of the freshest juiciest beets I have ever tasted.  Blended with a gorgeously creamy crème fraiche made it the perfect light appetizer.
My friend's plate of grilled oysters with a hot outer shell and juicy warm, plump oyster with just the right amount of salt were crazy good, we could have ordered more.  I could have certainly enjoyed all six myself.
As anyone who reads my blog may know, when duck is on the menu I find it hard to look at anything else so of course duck is what I ordered.  Tender and succulent meat with a lovely crispy salted edge and even more of those fantastic beets I had enjoyed for my appetizers.
After much deliberation BosGuy ordered the Monkfish and I am so glad he did, sorry, he is glad he did .  Creamy chunks of lobster-like mild meat that just really did melt in your mouth.  I know I sound like a cliché but it's quite true for this dish.
Our evening ended with a tasty cheese plate to share paired with a citrusy crisp glass of Sauvignon Blanc.
I have to say we had a delightful, bittersweet, beautifully unrushed evening of good service, superb food and a chat with the lovely Mary-Catherine Deibe about their upcoming retirement.
If you have the chance to stop by before the end of the year you will not be disappointed.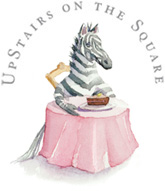 UpStairs you will be missed.