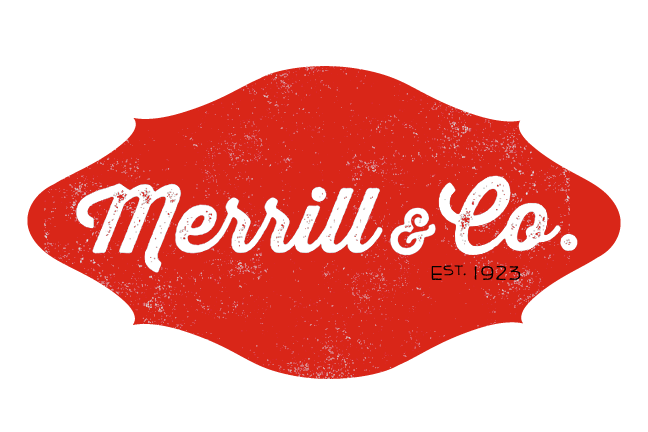 Always on the lookout for new and adventurous dining experiences, my friend Stacey recommended we do a pre-theater dinner at the brand new Merrill & Co., which is housed in the old 28 Degrees space and latest restaurant opening from the BiNA Family Hospitality group, who also own jm Curleys.
"Named for the late Merrill Lieberman, founder of Connecticut's Merrill Industries and known as "Pop" to many. A humble man who truly achieved the American dream, Merrill valued the kinship and hospitality found in the restaurants he frequented and they in turn appreciated his kindness and generosity. Merrill & Co. is a South End nod to the ease and comfort of the classic American diner where Pop would certainly have felt at home."
We had a very early dinner reservations at 5.30pm, which also seemed to be the only time we could get prior to the theater. New restaurants are always a buzz with customers desperate to see what is on offer so you get 5.30pm or 10.30pm. It worked for us as we took our time to test a lot of what the menu had to offer and enjoy some pre-theater wine.
Even though it was only 5.30pm the open plan bright, sun lit restaurant was busy with patrons and getting busier by the minute. You feel like you are in an upscale diner with booth seating, high-top metal back chair bar seating, and a long table in front of a soda counter. We were escorted to a booth by a super friendly host.
Our waiter came over with menus and took some drink orders. Although there is a big focus on sherry with the menu, both Stacey and I decided on the Rosé, while Eric ordered a Brooklyn Black Chocolate Stout, which I have to say would put hairs on anyone's chest. This is a strong beer, I know I had the tiniest of sips!
I don't normally write about brand new restaurants without trying them a few times first but I have to say I did enjoy my time here and wanted to share some initial thoughts. I am sure I will add more review updates in the future.
The menu is very share friendly, which works great for me as I love to try lots of different things. Everything comes out as it is made so we had a fun table of revolving dishes.
Starting with a dozen Island Creek Oysters, which seem to be fantastic this year and these were no different. Shucked perfectly.
Simple deviled eggs are fresh and I loved the smoked paprika on top. Not a fan of pickles personally but they were devoured by Stacey and Eric with gusto.
The Brussels sprouts were probably my least favorite dish as they were just that little bit too raw (for me) beyond the charred, flavorsome outer layer.
Now… the Uni French Bread. This stands out as the high point of all my tastings. Absolutely fantastic crunchy bread topped with sweet uni and pimento with mustard seed. Highly recommend that you try this dish. I begged for the last piece.
Crazy good waffle fries, which reminded me of Cheetos as you just expect your fingers to turn orange from eating them. Lovely and crispy on the outside and creamy soft potato on the inside with just the right amount of cheddar flavor.
The mussels did have a lot of broken shells in the broth so I had to go searching for them, being careful not to pick up a shell. When found they were tiny and tasty. The red curry broth is ridiculously good with a kick of ginger and delicious enough to eat as a soup, especially with the bread, which there was plenty of.
Oh so good crispy citrus and spice fresh fried chicken. There was a serious crunch with every bite.
I could honestly not eat any more but Stacey really wanted to taste the Pork Belly. I am not a huge fan Pork Belly as I find it far too fatty; however, this was good from the little bite I tried. I especially liked the smoky outdoor grill flavor to the baby carrots. Stacey commented that the "Pork belly is crispy on the outside and had tender, smoky meat on the inside. The "fat/meat" ratio is perfect. Had a little hint of sweetness as well."
I think we did well with sampling a lot of this menu and there are still many items I want to try.
Merrill & Co. is a fun and different addition to the South End, which I think will work out very well for them. I am excited to go back soon.

WANT TO SHARE THIS POST, HERE ARE SOME READY MADE TWEETS